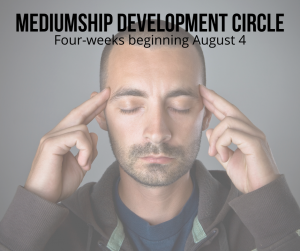 Starts WEDNESDAY, AUGUST 4 (four-weeks)
Mediumship Development Circle
Live via Zoom
Are you tapped into your intuitive skills but need more work in communicating accurately with the other side?  Join in as we work each week on developing consistency with your mediumistic skills.  We'll work together, in pairs and in small groups to build upon your intuitive skills and bring through loved ones from the other side.  Class meets August 4, 11, 18 and 25.
Once you have registered below, I will send you a payment link followed by the Zoom link once payment has been received.  
Time:  7:00 p.m. - 8:30 p.m.    Cost:  $80.00
Join in on Facebook.com/HIHCenter
I am offering a FREE Monday Meditation.  Check the Current Month schedule for dates and join in or simply click the Video tab on my Facebook page to access all the meditations since March 2020.