Pad Thai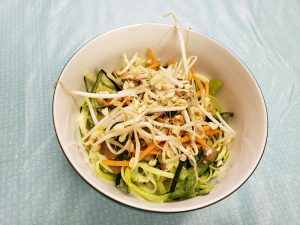 I get asked so many times to post my recipes for the food I make. This Pad Thai is so simple and so fresh for the spring and summer and you don't have to worry about people with allergies. It's great to make a big bowl of it and serve it like a salad or just prep the ingredients and make individual servings for yourself. The great thing about it is that you can serve it hot or cold. Enjoy!
Sauce
1/4 cup almond butter
1/4 cup apple cider vinegar
3 Tablespoons liquid aminos (Bragg's) or coconut aminos (if no soy allergies, you can use tamari or soy sauce)
3 Tablespoons honey
1″ of ginger, diced
1 clove garlic, diced
3/4 teaspoon cayenne pepper (adjust to taste as this is spicy)
1/3 cup chopped almonds
Place all ingredients except chopped almonds in a blender. Blend until smooth. Stir in chopped almonds.
For the noodles
4 medium zucchini or squash, spiralized and cut into shorter segments
2 carrots shredded or in long thin strips
1 red bell pepper, chopped or long thin strips
1 cup bean or sunflower sprouts
2 green onions, diced
For the topping
1/2 cup chopped almonds
1/4 cup cilantro
1/4 basil, chopped
Pinch of red pepper flakes (optional)
Putting it all together
Place the noodles in a bowl and stir in the sauce. Top with carrots, peppers, sprouts and green onions. Add the additional toppings.